What the hell
zsIRC is a freeware IRC client aimed at the Pocket PC platform. It's not meant to be a killer application or anything of that sort, it's just a little side-project I decided to do, because the current clients were lacking various things I felt necessary, so here it is.
Requirements
Windows Mobile 2003
200k data space
~1MB free memory
Screenshots
HP iPAQ hx2400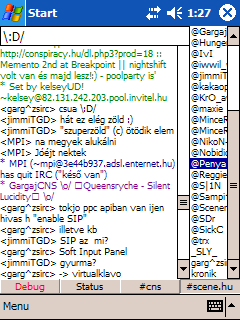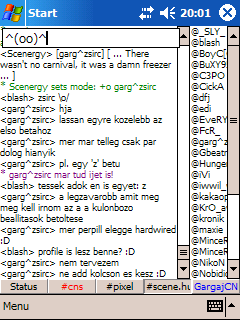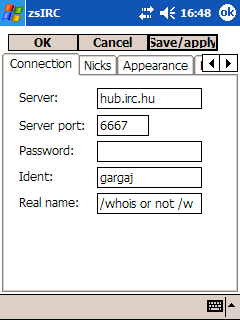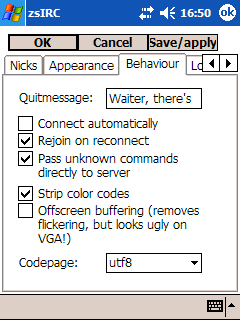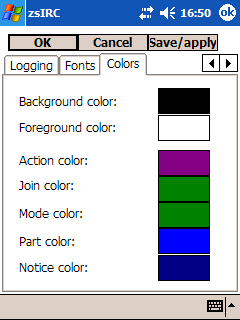 (I guess that's enough for screenshots now - thanks! Of course, if you get zsIRC running on some really weird system...)
MobilePro 900c

Thanks to Matt O for the shot.
Treo 700wx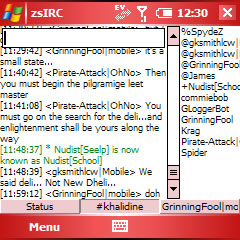 Thanks to Grant Smith for the shot.
O2 XDA Neo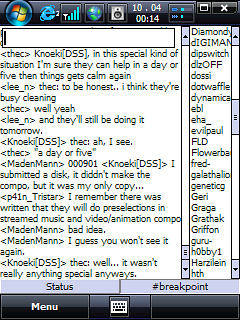 Thanks to Flu0r for the shot. (Look, it's #breakpoint!)
Samsung SGH-600i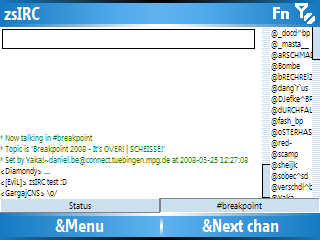 Thanks to [EviL] for the shot. (#breakpoint again! \o/)
Samsung Blackjack 2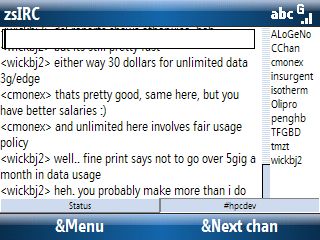 Thanks to Matt O for the shot.
Motorola Q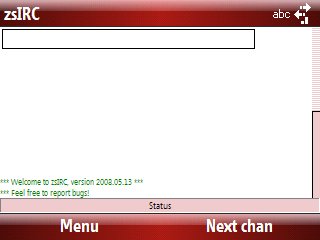 Thanks to m0nkee for the shot.
Mitac MIO a501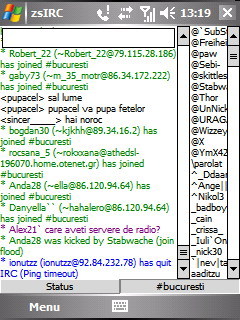 Thanks to Nikolaus for the shot.
Also reported to work on
HP iPAQ rx3715
HP iPAQ rx4700 (thanks to Godfather)
HTC Wizard 100/200
HTC Universal (thanks to scatterp)
HTC TyTN (thanks to Booger)
MDA Pro (thanks to Benway)
Qtek 9090 (thanks to Pascal)
Qtek 9100 (thanks to Gianni)